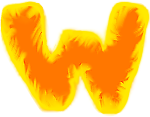 I'm Wuzzy and this is my space on the Internet. I like the color orange, video games, free software and the concept of absurdity. I speak German and English.
I make games and I contribute to games. Noteworthy games include Repixture (main developer) and Hedgewars (co-developer). I also post the webcomic Nose Ears.
On Mastodon, I often post about my latest projects and thoughts.
Practically all of my published work is compatible with free software / free culture values. Most of my code can be found on Codeberg.org.
To learn more about my personality, see About me.
For other random nonsense I do on the Internet, see Me in the Internet.
Contact / Social
Here's how you can contact me: